Sullair is pleased to offer this training website to help our employees, distributors, and end users improve their professional knowledge and skills.
Before enrolling in any courses, please click the "System Test" link in the bottom left corner of the screen to ensure your computer is compatible with this system. To view our courses, you must have Adobe Flash Player 8 or higher. Click the Flash Player button below to download the latest Flash Player version. To ensure a good communication link, do not use "air cards" when viewing course content. Access the internet via direct network or a reliable wireless connection.
JUST ADDED: Sullair Portable STS Controller Training
To access this module, log in to your training account, select "Course Catalog", choose "Portable Air Power" and then select "Videos".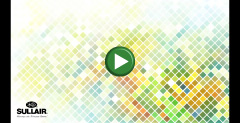 Need help using the Sullair training site? Click here.